"Cavafy" A Film by Yiannis Smaragdis
Overall Impression
"Cavafy" is a schematic biography of one of the most prominent Greek poets, Constantine P. Cavafy.
The main people and incidents of Cavafy's life are being presented in a very abundant way. The film itself rotates around a world of senses and unutterable desires in a way that Cavafy's sensualism dominates the film and his poetry is almost completely left out.
Cavafy and his poetry were deeply influenced by his passions and his unutterable desires. These desires and the guilt inflicted upon the poet are the basis of this film directed by Yiannis Smaragdis. Dominated by silence, thoughts and unbearable melancholy, "Cavafy" lacks the emotional poetry of the great Alexandrian poet.
A movie which is being dangerously slow in action and dialogues but with great music (by Vaggelis), amazing photography and very good actors...


Story
On the last day of his life, C.P. Cavafy, ill in hospital, is visited by a young writer who wants his approval to publish a study on the poet's life.
The poet begins a journey back in time, gradually remembering all the incidents and all the people that left their mark on his life.
Alexandria, his relationship with his mother, his trips to Constantinople, Athens and the awakening of his personal sensuality and hidden sexual preferences are once again being reminded to the aged and exhausted poet.
He sees his past lovers, those who were the Gods of his poetry, those who were the objects of his dreams, his carnal desires and pleasures.
He is lost in his frustration, his guilt and his grief caused by such turning points of his life as the death of his mother, the denial of his erotic propositions by potential lovers...
Finally, the poet is -for the last time- visited by the visions of all the young and beautiful men he hymned in his poems. With these final erotic memoirs, Cavafy is living his life and begins his journey to the unknown...

Cast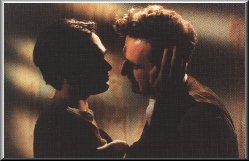 Dimitris Katalifos (Cavafy)


Vassilis Diamandopoulos (Cavafy as an old man)


Mayia Lyberopoulou (Cavafy's mother)


Lazaros Georgacopoulos (Sefeniotis)


Giorgos Moschidis (Doctor)


Mirto Alikaki


Alexandros Koukos


Julia Souglakou


Lakis Lazopoulos (Mistis Propobou)


Alexis Damianos (Photographer "Death")


Director: Yiannis Smaragdis


Production: Greek Film Centre, Alexandros Film, Greek Television ET-1, Talos (Civil society non-profit)


Release Date: September 1996


Film Type & Length: 35mm colour 85 mins.


Format: 1:1.66 Dolby Stereo


Other Photos










Back to [Main Page]